A story and illustration book for children
in accessing Divine Angelic invention and assistance.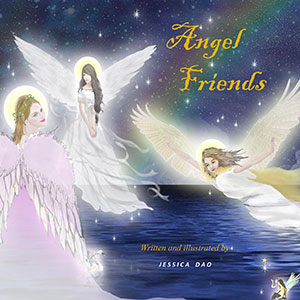 Angel Friends is a delightfully bright story of a schoolboy's introduction to the realm of angels.

Jessica's angelic and beautiful illustrations and simple story line carry the reader through a series of everyday fears and challenges facing our children. She reminds us that angels, the divine beings, can assist in many unique and miraculous ways. They protect, heal, and nurture all of us and their divine intervention and assistance are always available to all.

Angel Friends can be enjoyed by children and adults alike. This book is the perfect gift for children, parents, and guardians. It reaffirms the belief in the existence of divine beings and how they can transform our daily lives. Angel Friends is a magical bedtime story that offers comfort and peaceful sleep to our children.
"This was a nice ice-breaker for my young children, a topic easily dismissed as imagination. The short story focused on a trusting brother & sister with the ability to see angels. The easy to understand description of each archangel included their healing heirarchy, encourages little ones to feel comfort in place of fear."

Book review by
on Amazon.com May 2017
"Exquisitely illustrated and written children's book that will help your child deal with those creepy shadows in the night. Filled with light, love and positive energy, each story will transport by your angel into a place of deep, love-filled protection"

Book review by
InnerSelf Magazine June-August 2014
"Beautifully and simply written, with stunning illustrations. A great introduction for children to the world of angels and their different special healing abilities."

Book review by
on Amazon.com April 2014

"A well written book with tons of gorgous illustrations and stories that are easy to understand and digest, thank you!"

Book review by
on Amazon.com June 2014

"My 5year old loved it. The pictures were beautiful. Maybe there could have been more pictures. Stories were great lessons.."

Book review by
on Amazon.com April 2014

Intuitive Reading

Spiritual and Energy Healing




Spiritual and Relationship Counselling


Aromatherapy, Massage, Acupressure & Traditional Natural Therapy
Spiritual Courses & Workshops
Enter your email address for newsletters and new posts.