Spirit Release
Releasing earthbound spirits and/or negative entities.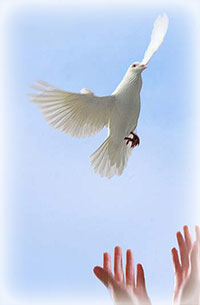 Throughout history spirit release has been the role of shaman, holy man, healer, and priest in many indigenous and civilized cultures including Native American, Chinese, Egyptian, Hebrew, Greek and Indian.
Many spirit possession cases have been documented although without scientific proof. Many psychologists, psychiatric or hypnotherapist have tumbled into cases of spirit possession and upon releasing the entities, their clients were healed miraculously.
These are amongst the many authors who acknowledge the existence of spirit possessions and documented cases of spirit release through hypnotherapy:
"Remarkable Healings" – Shakuntala Modi M.D
"Unquiet Death" – Dr. Edith Fiore
"Healing Lost Souls" & "Spirit Releasement Therapy" – Dr. William J. Baldwin
Many of us are affected by spirits without awareness. Some are with us from past-lives, from childhood and others are from recent encounters such as accidents, visit to a hospital or a loss of a loved one. Symptoms such as sudden aches and pains which cannot be diagnosed or cured by conventional medical means, a sudden change in personality are strong indications of being affected by spirits.
Without releasing the spirit from whom the client is being affected, the energy healing done to the person is simply not being effective! Many undergo numbers of treatments and healing yet still not being to heal their symptoms/concerns.
Through spirit release, the external influences by spirits can be removed thus revealing the authentic core symptoms/illnesses and allowing the person to heal with the correct treatment/healing.
Spirit release comes in different forms depending on the nature and complexity of the spirits who are affecting the person. From a simple lost and confused earthbound soul to a complex negative entity such as demons and Reptilians; and from a simple recent encounter to a complex past-life/karmic link. Some cases only require a simple quick clearing, yet others require intensive regression (hypnotherapy) session.
To effectively release spirits or entities, the affected person may require additional healing such as karmic release, soul retrieval and clearing energy blockages in the physical body. Counselling sessions are recommended to prevent re-attachment. Such sessions involve understanding of energy clearing and protection, and how to raise the energy bodies at all level physically, emotionally, mentally, and spiritually.
Jessica is experienced with releasing spirits and specialized in advanced entities release. She has written 'Unseen Dark Entities – A Practical Healing and Self-help Manual' on the subject offering detailed understanding and valuable insights.
Distant Spirit Release is effective in most cases with the assistance of other experienced healers. This is currently unavailable.
Jessica is available for consultation from South Australia and Dubai. Please contact Jessica prior to booking.
For interstate and overseas, Jessica provides consultation before and after the courses at the venue in your city.
Please check the Events and Course Dates for details.
For distant consultation/ spirit release please contact Jessica prior to booking.
Fees:
General Consultation
Reading and healing/counselling combined
in person AUD $150/90min.
Hypnotherapy Session
Emotional Release/Advanced Spirit Release/Past-life Journey
in person AUD $300/3-4 hours.
Distant Consultation
International Consultation requires SKYPE connection
in person USD $100/60mins.
Initial Distant Reading
Reading with Jessica USD $60/30min
(International reading requires SKYPE connection)
All enquires please direct to Jessica Dao